Press Articles
£10 Book Voucher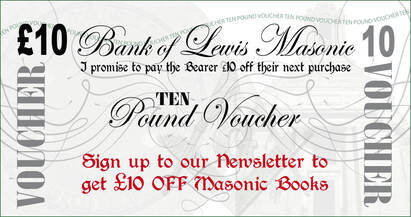 It's the start of the 2015 Masonic season and in order to aid brethren in making their daily advancement in Masonic knowledge Lewis Masonic are offering a £10 book voucher just for signing up to our mailing list! Ideal for the new Mason or for the brother who just needs a boost in his Masonic studies.
To claim your £10 voucher please sign up to our mailing list here:




Terms of Use


A promotional voucher is an entitlement to a discount (up to the amount

stated) off the total value of your order for books.



1. Promotional vouchers cannot be redeemed against the purchase of eBooks,

eRituals or subscriptions to the Square Magazine.




2. Vouchers have a cash value of £0.001 and are non-transferable or

assignable and cannot be sold at auction.




4. Only one voucher can be used per customer.




5. Vouchers are valid for three months from time of issue.




6. When using a voucher, the full balance of the purchase is payable at




the

time the order is placed.




8. A minimum spend of £50 is applicable in order for a voucher to be

valid.




9. Vouchers cannot be used with any other promotional offer or trade

discount.




11. Lewis Masonic reserves the right to refuse redemption of vouchers if

they believe that they are being used by someone other than the intended

recipient.




12. Lewis Masonic reserves the right to decline to accept vouchers where,

in

its opinion, a voucher is invalid for the booking being made.




13. This offer is only valid for Septemeber 2015




14. Lewis Masonic shall not be liable to any customer for any financial

loss

arising out of the refusal, cancellation or withdrawal of a promotional

voucher or any failure or inability of a customer to use a promotional

voucher for any reason.




15. Lewis Masonic reserves the right to change these Terms and Conditions

at

any time.
Comments
Be the first to comment on this article