Press Articles
The Perfect Life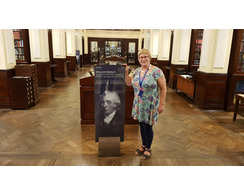 By Martin Faulks - General Manager
Last week I had the chance to visit the Museum of Freemasonry in order to view their latest display 'William Perfect: Enlightenment Mason, Medic and Man of Letters'.
This display is all about the life of William Perfect (c.1734-1809) A fascinating display, it includes many documents and possessions pertaining to his life including letters, poems, masonic items/jewels, and portraits. Anyone who has read of life in the 18th century will know that it was a very exciting time, with many opportunities for those who wished to live very dedicated and fulfilling lives. William Perfect epitomises the Renaissance polymath with diverse interests and great dedication to learning. This display is a beautiful snapshot of the time and of Freemasonry gone by through the lens of one man's life. It's well worth a visit and you are sure to find something unexpected. Personally I found the story of the all female Pseudo-Masonic group known as the Jiggy Joggies who suffered great hardships to meet and the poem to the victory of the smallpox virus particularly interesting and memorable.
Location: Freemasons Hall
Price: Free
12 Jul - 11 Jan 2020
Museum of Freemasonry
60 Great Queen Street
London
WC2B 5AZ
If you want the full story be sure to join the museum Archivist Susan Snell on a personal tour of the new Library and Archives temporary exhibition. Tickets available on Saturday 7th September 2019 only.
Click Here to book
Comments