Press Articles
What did Rob Morris know?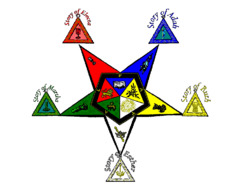 By Martin Faulks
It's commonly thought that the Order of the Eastern Star was created by Rob Morris in 1846 as a means for female relatives of masons to walk the path of self-improvement. Few people seem however to have wondered where he gained his inspiration. My studies focus on the Art of Memory and its historical development. In the last month I found some startling evidence that may change how one of this orders is viewed.
I have started to uncover a practice whereby meditation of figures of women of virtue in a ritual format has been used in Christianity for a very long time. The use of memory as means of Christian contemplation dates back a very long way, at least as far as the Roman African, Saint Augustine of Hippo in 400AD.
Now Rob Morris was a very dedicated Christian, who not only took his studies seriously, but also very deeply. Indeed he even went on a pilgrimage to the holy land. The first name for the OES was The Rosary of the Eastern Star. Is it possible he based this whole working on an older Christian tradition found in convents?
Comments
Be the first to comment on this article